How to Upload your Covers
I have made this thread after the constant requests we get How do I upload my covers.........
After uploading , your covers do not directly appear on the main site, instead they are in a list of covers awaiting approval and this may take between 1 to 3 days depending on the amount of covers and the number of approvers online ( This is a free site and members give up their free time to help out here )
Before you start it helps if you are a registered member of the Forums,(
How to Register here
) by doing this each upload you make , gives you the chance of winning a Prize in our Monthly competitions.
Each part is counted separately,So if you upload the movie Iceage 3 - Cover + dvd that counts as 2
If you uploaded a Music cd Now 74 Front + back + Disc 1 + disc 2 That would count as 4 .
Covers can be rejected for many reasons
Covers tagged with a designer logo
Bad cropping
Bad quality
Image size to small
For a more in depth look at this please refer to this page by
Bluetac
Naming your Covers
When you name your covers, please use
English
- This saves time having to rename covers
When uploading Music covers please use an - between the album and artist name example
Madonna - True Blue
, and for Compilation cds please put
Various
for the artists. Example
Now 74 - Various
Also in the naming do not use the / Character as this causes the covers to not show up in the approve panel.
Getting Started
Go to the main site
www.cdcovers.cc
and Click on the Upload Button I have circled red.
Fig 1
Next
Please upload all covers in
Landscape
and not portrait
Select the Cover type DVD Music etc in the Section box
Enter a title for your cover
If asked select Language and cover format and region ( Movies only)
Then Click on the Next box (circled red )
Fig 2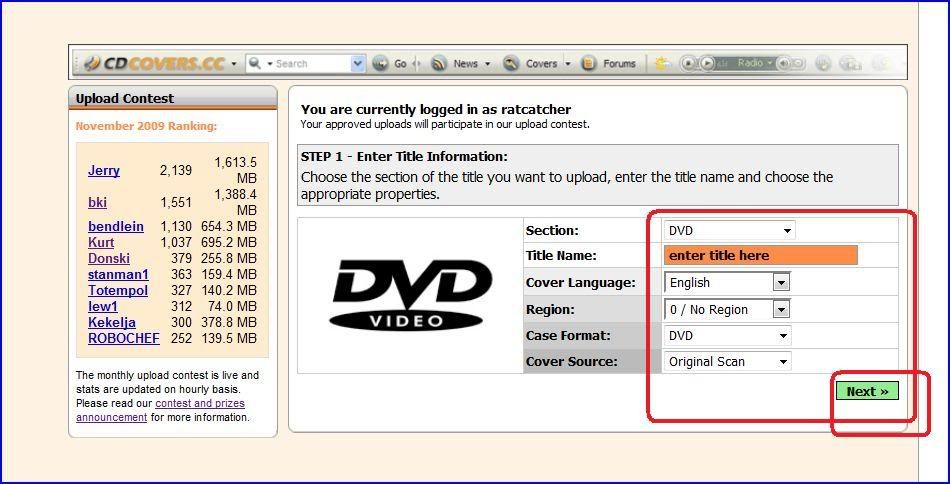 This take you to the next stage
By clicking on the Browse button enter the location on your PC of the covers you wish to upload then click on the Upload button ( Circled Red in Fig 3.)
Fig 3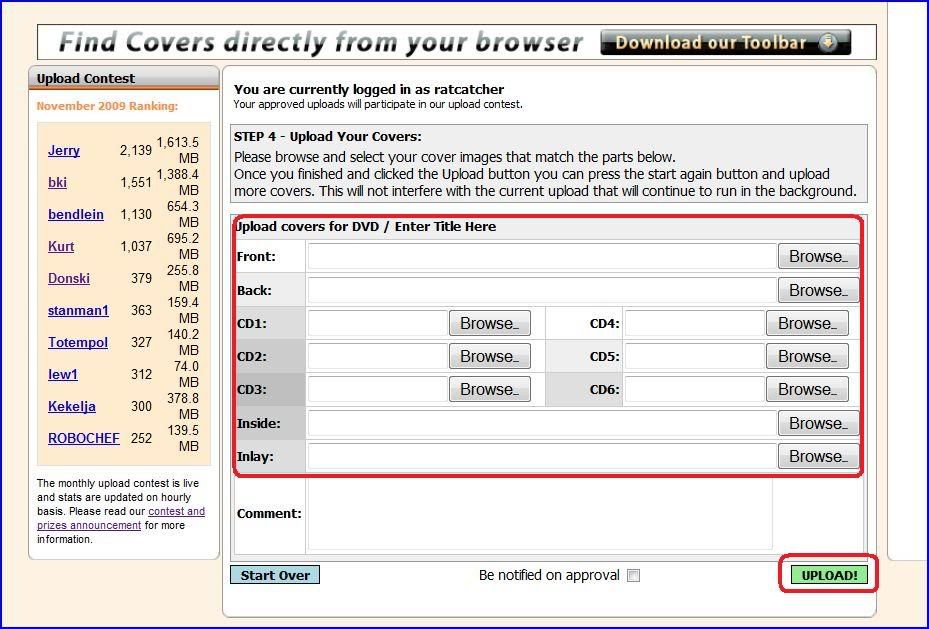 This next screen appears showing your covers being uploaded and when it has finished it looks like this
Fig 4
And lastly, do not upload covers that you would not want to use yourself.
Covers are approved as and when uploaders are available to approve them.
Please don't forget this is a free site, and we all give our time voluntarily
.